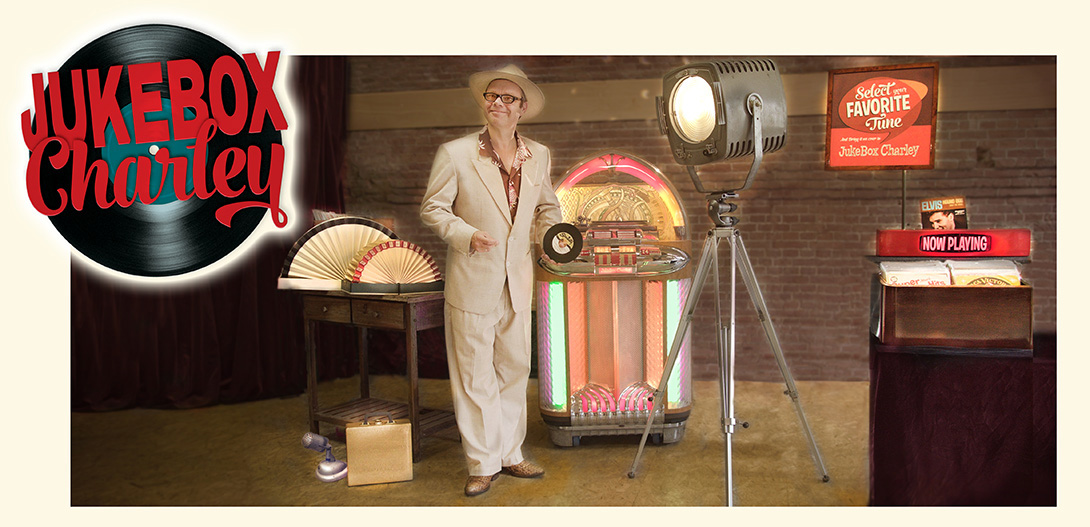 DJ JukeBox Charley
Vinyl DJ with vintage jukebox as an interactive DJ booth.
For your party, location or corporate event.


"DJ Charley sets the tone for the night and can easily adapt to the atmosphere and situation,
from uplifting background music to dance floor fillers for a diverse audience."
JukeboxCharley@Gmail.com - mobile: +31 (0)620750027 (Amsterdam NL)
Music styles; Vintage · Oldies but Goodies · Fifties · Sixties · Rock & Roll · Soul · Easy Tune · Swing · Jive · Jazzy Tunes · Cabaret · Twenties style · Forties · Rhythm & Blues · Seventies · Eighties · Fun Pop · Beach Music · Exotica · Retro · Electro Swing and More.

Specialises in; Roaring Twenties · Great Gatsby · Burlesque · Retro Party · Night Club · Cocktail Party · Swinging Sixties · Moulin Rouge · Hollywood · Casino Royale · Show Boat · R&R · Cabaret · Circus · Country · Cowboy · 40up · Seniors party · Tropical · Hawaii · Tiki · Beach · Jamaica · Mobster · Disco · Seventies · Eighties · Car and Bike Meet · Halloween · Christmas · Dinner party · Vintage party · Award show · Openings · Cultural Events · Weddings · Meetings · Presentations · Special Projects and more.

Bookings or questions: mail JukeboxCharley@Gmail.com
ot call +31 (0)6 2075 0027 (office hours)
Jukebox Charley
Retro DJ Charley uses a vintage Wurlitzer 1100 jukebox as a very decorative DJ booth including amplification and props.

He selects a record stored in old fashioned record boxes, and puts it on the record player inside the jukebox, all for your listening and dancing pleasure. Well dressed in a suit and with props like a beautiful microphone, vintage movie studio lamp and disco light effects he's picture perfect!
A turn key solution for an instant atmosphere in any space!

The Wurlitzer 1100 jukebox is one of the greatest eyecatchers of all time! It features gorgeous moving and changing illumination through crystal-clear embossed door plastics. Back in 1948 this jukebox was an innovation in the industry. To top it off, Wurlitzer's panoramic window 'aeronautical astro-dome' lets you see DJ Jukebox Charley put the vinyl inside the player. It's magic in a theatrical setting right before your very eyes.

This jukebox with live DJ is well suited for a lounge setting, at the start of an all-night event, a networking or cocktail party, during a dinner, and even for a dance party!



DJ Charley is also available with other DJ booths or can simply come around with his records using your equipment.
Ask for the brochure with several options and a price list.
visit: RetroDJ.nl


For more info: JukeboxCharley@Gmail.com
or call +31 (0)6 2075 0027 (office hours)
Interactive act / requests:
Besides the jukebox, decorative custom-made record boxes filled with singles and LPs will be available for your guests to search through in order to request songs they'd like DJ Charley to play. The records range from the fifties through to the eighties, from 'Jailhouse Rock' by Elvis Presley to 'Crazy Little Thing Called Love' by Queen, and jukebox music like soul, rock & roll, beat, pop and more. From easy listening to fun and cool dance floor music like; Diana Ross & the Supremes, Michael Jackson, Kool & the Gang, Charles Aznavour, The 4 Seasons, Blondie, Beatles, Rollin' Stones, Madonna and more. You'll hear many well known or lesser known golden oldies on vinyl in their original sleeves. The whole set up is an interactive museum piece: memories will come easily as you recognise songs from 'the soundtrack of your life'. You can also leave the choice of records completely up to DJ Charley. Besides playing hits he specialises in most vintage and retro styles.The request boxes can also be filled with tunes suited to your theme party. Just ask!
Background:
Charley (1967) has been active as a DJ since his teenage years. The last 15 years he has been a professional DJ at his own organised parties and at corporate events.
"Driving back to Amsterdam from a gig I thought of how to make the perfect DJ booth for my music styles. At that moment, the country song 'Jukebox Charlie' started playing and -the penny dropped-!: I'll buy my vintage-dream-jukebox, open up the rear and use it as a DJ booth."
It sure turned out a novel idea! A new DJ concept was born: the living jukebox!

Gramophone DJ Charley at the Van Gogh Museum.

Alternative for Jukebox DJ: Gramophone DJ Charley!

DJ Charley brings a top-of-the-bill Deccalion record player made in 1959, vinyl and movie studio lamp. Vintage entertainment for your lounge space, start of the party, during dinner, cocktail party, festival, cultural event etc. Jazzy music or uplifting 50's - 60's tunes, twist, Rock & Roll, exotica, a special theme or anything vintage mixed.

The equipment is rapidly ready to play. instant atmosphere at any location!. It produces a lot of sound but with a microphone in front it can also be amplified to your loudspeakers.


Gramophone DJ Charley is also available with a antique box full of request records.
Bookings or questions: mail JukeBoxCharley@Gmail.com
or call +31 (0)620750027
DJ Charley work(ed) for many event agencies, corporate events, theatres & clubs; Paradiso, Melkweg, North Sea Jazz Club, Tuschinski, Huis ter Duin, L'Europe, SS Rotterdam. Het Boekenbal, Epica Awards Berlin, Holland Casino, museums, quizes, Burlesque events and more
Other sites / projects by DJ Charley:



RetroDJ.nl - DinnershowDJ.nl - GreatGatsbyDJ.nl - Vintage-DJ.nl - JukeboxCharley.nl

Charley as an organisor has a company named Madame Risquée.
See several projects here;
MadameRisquee.com · MidniteBurlesque.com · WonderSalon.nl · GreatGatsby.club
www.Retrolicious.info · www.DiscoRisotto.com · AmsterdamBurlesque.com · BurlesqueWorkshop.com
YouTube Channel with Madame Risquée productions:
Bookings or questions: call +31 (0)6 20750027or mail JukeboxCharley@Gmail.com
chamber of commerce nr. 343618 76